How Long Should a Cover Letter Be?
So you've checked the job posting and they've requested a cover letter, but haven't given any guidelines for how long it should be. Or maybe they've stated that a cover letter is optional. Should you still send one? Emphatically, yes, you should. As for how long you should make it, follow our guidelines below.
Page count. In all circumstances, your cover letter should never exceed one page. Ideally, you should shoot for between half a page and a page, always aiming for the lower end of that spectrum. About 70% of employers want a half-page cover letter or feel that the shorter the better.
The shorter the better approach continues here; if you can say everything you need to in a 200-word cover letter, great! Stop right there and don't worry that you're being lazy or not including enough information.
Paragraph count. The standard advice is to aim for between 3-6 paragraphs. Three is the absolute minimum to do the following: introduce yourself, state your qualifications, and express interest in the specific company. However, it may be a good idea to give yourself four paragraphs, so you have more time to tout your credentials.
We don't recommend going over 4 paragraphs in most scenarios, because otherwise, each paragraph is going to look super short if you're working with ~300 words. Additionally, it shouldn't take multiple paragraphs to introduce yourself, express interest in the company, or thank the reader for their consideration.
Cover Letter Format
Make sure to follow the employer's directions for how you save your cover letter file. PDFs keep their formatting across devices and operating systems, making them a safe choice. However, if the employer specifically prohibits PDFs or requires a particular file type, like DOCX, follow those instructions.
Great, you're thinking, but how do I fit how awesome I am into such a tight length limit? Fear not; once you've broken down a cover letter into sections, it's easy to say what needs saying efficiently.
First paragraph. This may be the only paragraph a hiring manager will read in full; sad, but true. Make your opener countand get straight to the point: what job are you applying for, what do you know about the company, and how much experience do you have?
Then, try to use those same words when talking about your qualifications. Think: what about your work history, your skills, or accomplishments are most fitting for the specific job for which you're applying.
Whenever possible, include numbers to back up your claims. For instance, saying you provide great customer service is one thing, but showing evidence of that fact by stating you increased customer satisfaction by 17% is quite another.
Third paragraph. This is your chance to express interest in the company. Why do you want to work for them? Research the company so you know what sort of projects they've developed and what their future goals are.
Don't stop at simply mentioning that you know what the company is up to, though. Tell the hiring manager what you could do to further the company's goals. It's also appropriate to call back to your qualifications here: "I know I can be an asset in developing XYZ project successfully, because of my outstanding results with ABC project at [former employer]."
Remind the reader why you're perfect for the position and what you can offer the company, not what the company can offer you (e.g., don't say you look forward to learning more skills — you should already have those skills!)
More optional paragraphs. Your introduction and conclusion should always be just one paragraph. If you feel you need more than four paragraphs, do so by breaking your second and/or third paragraphs into two paragraphs. However, we strongly recommend keeping your cover letter to four paragraphs.
Example of One-Page Cover Letter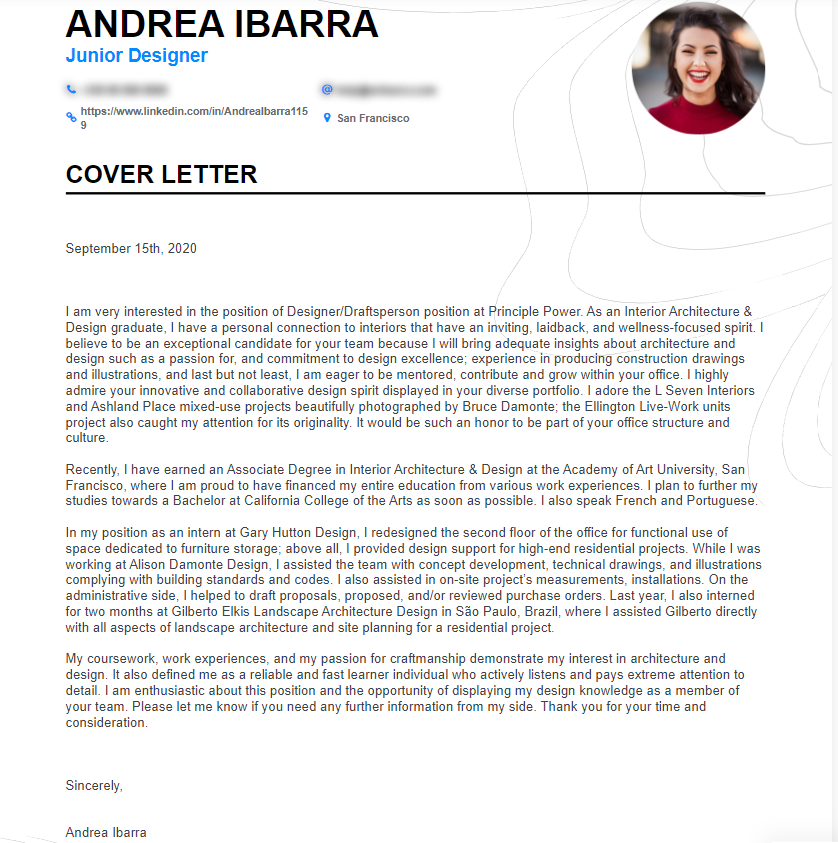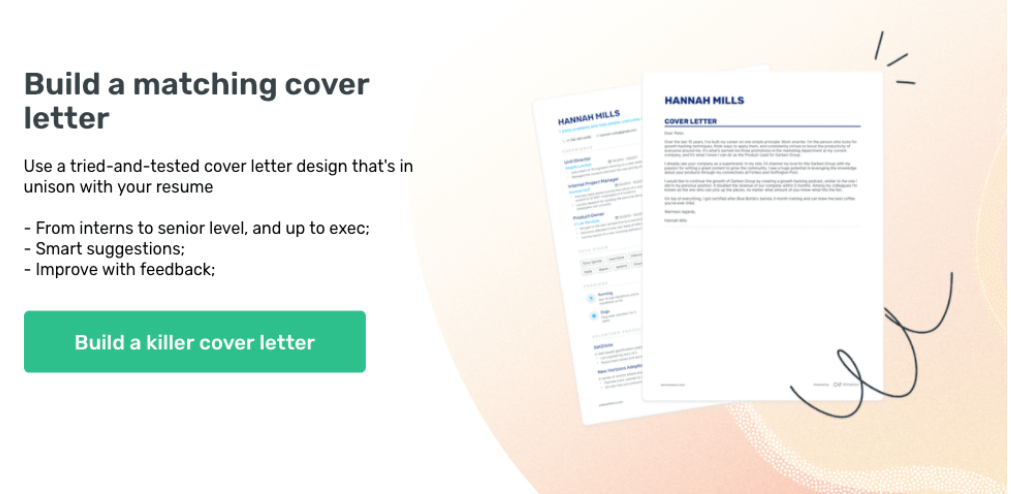 Focus on your relevant skills and achievements
Job recruiters go through so many applications a day that the moment they see pieces of information that are not related to what they are searching for, your resume and cover letter are headed to the bin.
Include four or fewer paragraphs in your cover letter body
Paragraph 1 – Introduction
Start by introducing yourself and how you found out about the position, followed by what motivated you to apply for it. Use this part to showcase your knowledge about the company.
You know exactly what they are looking for and, big surprise, you're the one that can give it all. If there are any specific things you really like about this business, now is the time to list them.
Paragraph 2 and 3 – Body
Use specific examples. "I have many years of experience working with wild cats." is good, but it can be even more precise. "I have worked as a wild cats rehabilitator in the Oregon Zoo in Portland for 6 years."
"By transforming business goals into measurable indicators with conversion rate optimization in mind, I can help clients gather and analyze user interactions in a visually appealing way that they can access anytime, anywhere."
Paragraph 4 – Ending
And now it's time for the big finale. Thank the hiring managers for their time and undivided attention, provide them with extra contact information and finish up with a call to action.
Write short and direct sentences
Leave some information to be revealed later at the interview
Use a Professional Cover Letter Format
Use a readable and plain font, for example, Times New Roman, Arial, Verdana, or Calibri. The size should be no more than 13 point and no less than 11 point. Make it too small, and it's illegible, make it too big and it looks like you're trying to fill up space.
How to make the most of your cover letter word length and arrangement
Before you start writing, check if there are any specific requirements posted by the recruiters regarding your cover letter. Some companies will tell you exactly what they want for length and content.
Can my cover letter be 2 pages?
You're not telling your life story, you're simply listing all the relevant experience and skills you have so you can get invited to an interview. You will have more chances to market yourself once you get there.
How many words should a cover letter be?
Well, if you don't have any specific instructions from the employer, keep it between 250 and 400, ideally 300. If you're using a 12 point font and you've written your 3 paragraphs, that's the usual word count at the end.
What about academic cover letter length?
It usually needs to include all sorts of important information such as teaching, research, departmental service, published papers, relevant accolades, and anything else that might be required for the position.
How long should my intern cover letter be?
Resource:
https://www.zippia.com/advice/cover-letter-length/
https://www.coursera.org/articles/how-long-should-a-cover-letter-be
https://enhancv.com/blog/how-long-should-a-cover-letter-be/