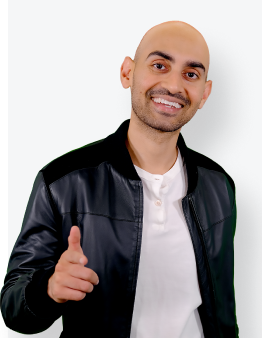 Blogging Tools to Organize Ideas and Create Content Calendars
It's not just writing content that's a challenge: it's organizing it and having a publishing system. If your approach to content creation is somewhat chaotic, you can change that with any of the following blogging tools.
Trello
Depending on the nature of your project, you can have different lists. For example, if you work with freelance writers, you can add several new lists for posts (articles) ordered, posts in progress, posts under review, submitted posts, etc.
Jira
HubSpot
HubSpot is a marketing and sales platform that provides inbound marketing and sales solutions. It has various features like blogging tools and landing pages. It helps bloggers and marketers to generate leads with its lead capture forms and track the website's performance with its analytics.
Google Sheets
Todoist
That's because Todoist takes to-do lists to a new level. It's an app that allows you to create multiple tasks. For example, you could create a list of blog posts, schedule them, and collaborate with other team members.
Best Blogging Tools And Resources For Beginner Bloggers
It takes you step-by-step and gives you a general outline of what you need to do to get yourself set up in one day. Or at least, it helps you create a plan for what may take you several days to get up and running. Do it at your own pace!
Start A Blog Toolkit (FREE) – A pre-requisite to the Grow It course. Get a step-by-step guide to starting a blog from scratch. Learn what to do BEFORE you purchase your hosting plan, and what to do right after. Find out what steps to take to begin creating great content, promoting your blog, getting your email newsletter started, and how to begin making money from the start.
Grow It: From Blog To Online Business – Change your mindset: go from beginner blogger to pro blogger, learning all of the key blogging skills you need before you're ready to scale up to an online business. From branding yourself and your blog to monetizing it wisely, as well as starting to create a business plan for your online business launch. Includes over $2000 in value and extras, including ebooks and templates.
Pin It Better: A Blogger's Guide To Pinterest – Learn everything a blogger needs to know about Pinterest. The different ways to add pins to boost traffic, Pinterest algorithm changes and how they affect your pinning strategies, and the best pinning strategies for 2022 that work.
Explode Your Blog Traffic!
Thank you!
Essential Blog Tools And Resources
WordPress.org – This is a powerful platform where you can build your blog. Don't confuse it with the .com version. The big difference is between self-hosting (.org) and using the free, but very limited, .com version. You want to self-host, which brings me to the next resource: a hosting provider that will help you with setting up WordPress.
Bluehost – It's a very reasonably priced (USD 5000.95/month to start with the basic plan), hosting service that is almost never down and has excellent 24-7 customer service, a free SSL certificate for security. I recommend the Choice Plus plan as it allows you to grow with additional sites, and more!
NameHero – Take hosting to the next level. If you're planning on blogging for the long term, or are ready to move on from Bluehost, NameHero is your best bet. Fast servers, better customer service and more reliable hosting for anybody who wants a better option.
Google Search Console – Another powerful tool that helps you ensure your site is being properly indexed by Google's search engine. It also helps you monitor your site's search traffic, identify issues with your posts.
Evanto Market's ThemeForest WordPress Gallery – I LOVE the wide range of WordPress blog themes you can purchase through Evanto Market and its ThemeForest WordPress gallery. The theme I'm currently using – CheerUp – was purchased through Evanto Market.
Bluchic – LOVE the themes from this team. I'm using one of the newer ones for my business site. Gorgeous, high-quality, feminine themes that elevate your brand. There are different types of themes to choose from – from several lifestyle themes to product or service business-oriented themes. The bonus is that they are fairly easy to customize and Kathie and Andrew from Bluchic are always quick to respond (within 24 hrs or so) with a solution.
Podia – If you're planning on creating and selling courses and digital downloads from the start (which I advise), one of the best platforms is Podia. It's super easy to set up a website with Podia for your courses and digital downloads. You can check out mine here: Blogger Academy.
The Huge List of 39 Blogging Tools
Tools to brainstorm blogging ideas
The crowdsourced answer website can help lead you to the types of questions that real people are asking, questions that you can answer in-depth with a blogpost. Search for your keyword, and follow topics related to your blog's focus.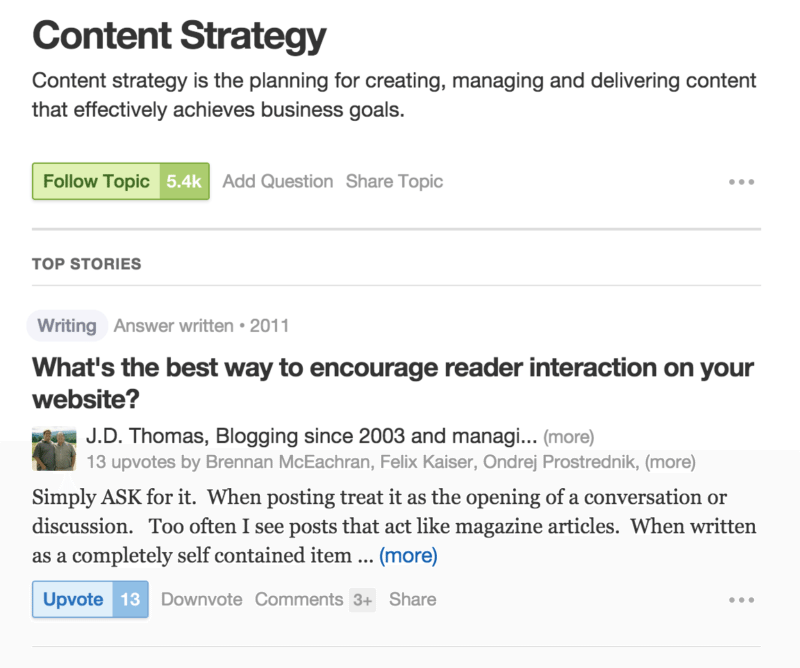 Enter a topic or a URL into the BuzzSumo search box, and you'll get a wealth of information on the content that performs best for social media sharing. BuzzSumo can be super useful for fleshing out an existing idea to find the perfect angle or in taking a broad look at the content that does well (and the blogs who do it best) in your niche.
Enter a URL into Quick Sprout, and you get an analysis of the site's performance and content. The "Social Media" tab shows you which posts from the site have been home runs, and you can take inspiration from the highlights on the list.
Enter a subject into the Portent tool, and you'll get a sample blogpost title, complete with helpful and witty breakdowns of why the title might make for a good read. Refresh as many times as you'd like for new ideas.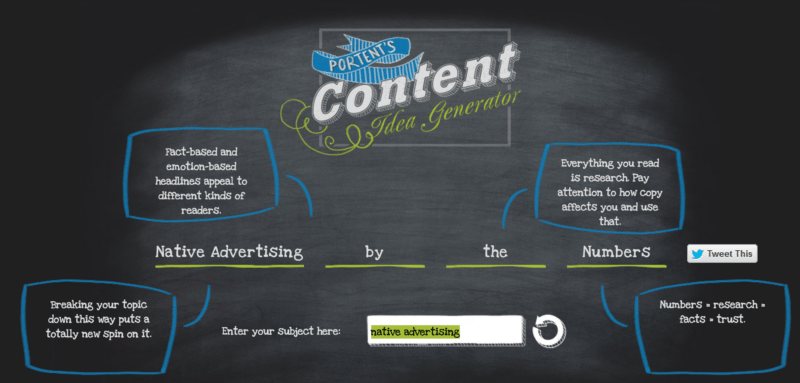 The trending topics section on your Twitter homepage can be a super spot for grabbing ideas from the latest news. You can tailor your trending topics to go uber-local (the big cities near and around you) or even receive fully tailored tweets that take into account your location and those you follow. (Click the "Change" link at the top of the Trends section on your Twitter homepage.)
Tools to organize your ideas
For super fast idea collecting, you can drop everything into Evernote—notes, snippets, photos, webpages, and more. The tagging system in Evernote is incredibly robust, so you can keep your ideas with a simple tag in a number of cool ways—by topic, by idea stage, and more.
Calendar tools like Google Calendar can be repurposed as editorial calendars. If publishing one post per day, you can save your ideas as all-day events and move them around the calendar as needed. If you plan on scheduling multiple posts, add a calendar event to the specific publish time. Zoom in and out to see what you've got planned for a given day, week, or month.
Place your ideas into a to-do list where you can schedule when blogposts might go live and break down the blogpost writing process into manageable steps. Todoist lets you collaborate on shared tasks with a team, too.
Another useful to-do list tool, Wunderlist can help you keep your ideas sorted into tasks and subtasks. Even consider adding a listicle idea and creating subtasks for each of the list items you want to add.
Tools to create well-optimized content
How do you frame your awesome idea into a far-reaching blogpost (that people can easily find)? Check for popular keywords. Google's Keyword Planner lets you enter a series of keywords, and Google returns results on search volume and popularity as well as related keywords that might spark an idea for you.
SEO plugins can help you fine tune your idea and blogpost into a specific keyword or phrase that will help with search results and help keep your blogpost focused. With Yoast's plugin, you can type in the keyword that you're after, and Yoast tells you how many different spots on the page the post appears and a nice green dot for when you're ready to go.
Tools to help you write easier and faster
Many bloggers go straight to the writing editor in their blog software (WordPress, Ghost, etc.). You can also consider writing in Google Docs for collaborating with others and tapping into the extra power of Google Docs' spelling and grammar tools.
A super simple timer, tell Egg Timer how long you want to work—15 minutes for research, 40 minutes to write a draft, etc.—and Egg Timer will count down the time. When time's up, a popup appears and the timer sounds.
Authorship:
https://neilpatel.com/blog/10-time-saving-blogging-tools-you-need-to-use/#:~:text=Quora%20is%20a%20great%20tool%20for%20bloggers.%20It,business.%20The%20best%20part%20is%20that%20it%E2%80%99s%20free.
https://margaretbourne.com/best-blogging-tools/
https://buffer.com/library/blogging-tools/